GARAPINE TRAILS
EVENT STAGES WILL NOT BE RELEASED UNTIL MONDAY 15 MARCH
For round 1 of the series, join us at the birthplace of Enduro in Australia, Garapine Mountain Bike Park.
Make contact with the Garapine team to book into the Accommodation onsite.  What could be better than ride in/ride out on race day – for more details on the available accommodation click here
Drive in for the day, or take advantage of the accommodation options and unofficial practice Saturday. With a great selection of trails, get ready for some serious enduro racing. Garapine is a privately owned mountain bike park featuring gravity enduro style mountain bike trails.
Garapine MTB Park Practice Ride Days
The Garapine team will host regular ride days open to all MTB riders. All riders must have current AusCycle/MTBA membership and bring their membership details for sign-in on arrival.
There is a trail fee per rider for riding at Garapine ($15 or $25 for e-bikes). Private Shuttle bookings also available to book online. If you have any questions regarding Ride Days, please email the Garapine team.
Sat 6 February 2021
Sun 14 February 2021
Sat 20 February 2021
Sun 28 February 2021
Sat 6 March 2021
Sat 13 March 2021
Sun 14 March 2021
Sat 20 March 2021
* Dates and times subject to change.
In true Enduro style we will not release the course map until Monday 15 March.  Below is the map of the Garapine Trail Network for your information.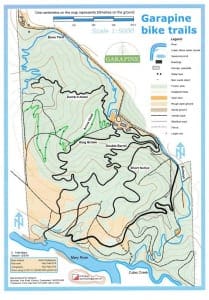 To ensure that we look after each event site and minimise our impact on the environment the following conditions apply for entry into this series:
No disposable goggle tear offs are allowed to be used.
The disposal of food/rubbish packaging on the trail or maintain is strictly prohibited.
The event reserve the right to penalise any rider whose actions are deemed to seriously damage the local environment.
Vehicle restrictions apply to event venues e.g. no shuttles during an event, minimum access etc. This will be communicated before each event
Riders must not store food and drinks on the trail (Food Stashes). Packaging left behind and uncontrolled food supplies may have a serious impact on local wildlife and the local environment.
You must supply your own food and in some cases due to Covid Restrictions water and electrolyte.